Skip to Main Content
It looks like you're using Internet Explorer 11 or older. This website works best with modern browsers such as the latest versions of Chrome, Firefox, Safari, and Edge. If you continue with this browser, you may see unexpected results.
What is a Monster?
Quote from Frankenstein which demonstrates the Monster's capacity for both Good and Evil.
The definition of "Evil" or "Monster" is subjective and may change over time or when viewed through the perspective of personal motivations, cultural backgrounds, or historical world events. Though many scholars have attempted to label these characters in sociological terms, neither Dr. Frankenstein nor the Monster can be definitively called good or evil. Below is a list of articles that discuss the novel's cultural and societal themes, and how they may help to define these characters.
Feminist Themes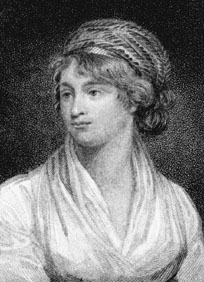 Mary Wollstonecraft (John Opie c. 1797)
Mary Shelley's mother, Mary Wollstonecraft (pictured above), was one of the earliest feminists. She is most remembered for writing A Vindication of the Rights of Woman, which is one of the first books on feminist philosophy. She advocated for women to get an education, to marry whom they choose, and to resist the men that tried to oppress them. Wollstonecraft's advocacy for women's rights influenced many other women, including her daughter Mary Shelley, who would eventually write Frankenstein, which contains many feminist themes. Below is a list of articles which highlight the feminist perspective in the novel.
Emotional Support and Isolation
Both Dr. Frankenstein and the Creature were driven into isolation, and forced to deal with their problems alone. The following articles examine the isolation experienced by the characters throughout the novel, and how they coped with their solitude.
Please CONTACT US if you have questions.